Day 1
My flight landed at Schiphol at around 5.30am, so i lingered around Schiphol Plaza for about half an hour before taking the train to Amsterdam Centraal Station (€4.20). The sun was already out, and I felt quite energized as I slept for a good 9 hours on the plane. It was a short ride into Amsterdam, about 20 minutes or so, the train was just as dingy as the one I took 5 years ago.
When i got to the central station, i scrambled around for a few minutes to look for a place where i could get the city transport tickets. I found the GVB office opposite the train station that sold day passes for €7. In hindsight, i didn't really need the pass, since in Amsterdam you could easily walk everywhere. Plus it was easier finding my way around by walking with the help of my trusty GPS than trying to figure out the tram routes.
Amsterdam is really nice in the morning when it's quiet and there's only a few joggers running around. I checked into my hotel, Hotel Prinsenhof on the eastern canal belt. The lady was very nice to let me put my things in the room despite the check-in time being 2pm (it was 8.30am when i arrived!) The room was really clean and nice, but with a shared bathroom on the lower floor. It cost me €45 a night, and it was a steal considering that it was a really busy weekend for Amsterdam. A point to note is, if you're in Amsterdam and not staying at a hotel with elevators, forget about bringing the large suitcase. The steep staircases are tortorous! Luckily i only had a cabin size suitcase with me, but even with only the 9kg i had, every step i took to get to my room i questioned the need for everything that was in the bag; like do i really need 4 t-shirts and 2 pairs of trousers in there? Do i really need shampoo, shower gel, etc etc?
Anyway, enough about my room and hotel, after i settled in my room i set out for the day. First things first, i went to find a place where i could take a canal cruise. I found one along one of the canals, and bought a combi-ticket for the Van Gogh museum. The canal cruise was great, except i chose to sit outside so i can take pictures, so i didn't hear a single thing that was said by the tour guide. I took a lot of pictures, but don't ask me what those places or things were! :-)
After the canal cruise, i went to look for the Van Gogh museum. Now, if you're in Amsterdam, be honest with yourself; are you into art? Do you spend your free time at home googling paintings? Do you like museums with huge crowds? If your answer is No to all three questions, then don't bother. I spent 30 minutes in there trying to see and appreciate the paintings before deciding that my time is better spent somewhere else.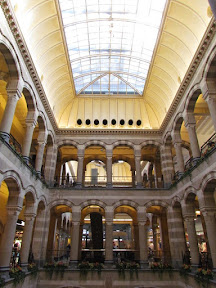 After the short stint at Van Gogh, i decided to go to Dam Square because i have some memory of it from 5 years ago. Dam square on that day has turned into a fun fair, complete with a ferris wheel and thrill rides. I stood around there for a few minutes, walked in and out of the shops in the back streets and decided to go look for the pancake shop i went to on my last visit. This city really gave me the munchies although i didn't smoke any pot or ingest any magic brownies! Mind you, before the pancake, i already had a brie and tomato sandwich and then some french fries. The pancake house is called Pannenkoekenhuis Upstairs, and yes, it's called that because of the crazy steep stairs you have to take to get some god awesome pancakes! Picture below is the lemon sugar pancake i ordered.
Next, i went to the foto museum, which was more within my area of interest, then i went to visit the Anne Frank House Museum which was interesting and sad at the same time. Must pick up her book when i get home from this trip.
By the time i got back to my hotel it was almost 9pm, and the bars outside my room were already partying like it's 2012. It all became background noise to me and i fell asleep as soon as the internet at the hotel suddenly stopped working.
All in all, i had a good first day in Amsterdam, and covered quite a lot of ground in 1 day thanks to my short attention span.
Day 2 sambung kemudian hari....
Location:Amsterdam, Netherlands